House Tours of Mackie Lake House
Back In Time Tours
Check back in 2022 for our Back in Time Tour schedule! 
Beautiful Christmas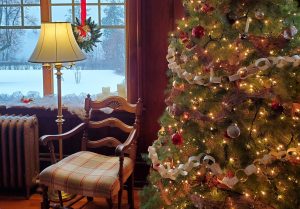 Join us on December 7th, 14th, or 21st for a tour of the beautifully decorated Mackie Lake House. Tickets are $20 each and available at ticketseller.ca. Three different times throughout the day are offered 12 noon, 3 p.m. and 6 p.m. After your tour, enjoy a cup of a hot apple cider while relaxing by the Christmas Tree.
Book a private tour! 
A tale of three teapots, a rattlesnake hunting Reverend, a gift from the King of Naples! Discover these and a multitude of other fascinating stories at this historic grand home.
Whether you are interested in architecture or history, our Private Tours can be tailored just for you!
Mackie Lake House Tours  are currently available by appointment only.  Please call 250-545-1019 to reserve.
Tickets are $10 per person – $5 for young children.
Refreshing beverages are available for purchase after your tour as you enjoy the grounds at Mackie Lake House. 
"6 of us booked to do a tour of the Mackie house and were delighted with the experience. Thank you Valerie for showing us such a unique look into the lives of the Mackie's and the architecture of the time. Your stories made the place come alive for us. We were a family of young and old who all enjoyed the tour. It was so fun to talk at dinner about our favorite parts."